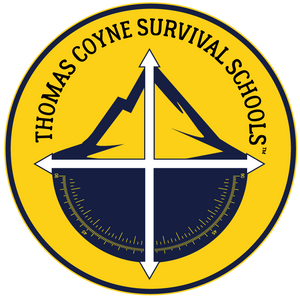 Survival Skills Instructor Certification Program
Regular price $2,000.00 Sale
Shopping for someone else but not sure what to give them? Give them the gift of choice with a Coyne Survival Schools gift card.
This gift card can be applied toward any 7 Day Cross Climate Course. They also never expire! These are non-refundable. Thank you for choosing T.C.S.S! Feel free to contact us with any questions at all. 805.441.7750
Gift cards are delivered by email and contain instructions to redeem them at checkout. Our gift cards have no additional processing fees.
SURVIVAL SKILLS INSTRUCTOR ACADEMY
Develop all of the skills necessary to become a professional survival instructor. You will not only receive our certification, but will receive a nationally recognized wilderness first aid instructor certificate as well. Work for us, open your own TCSS branch in a new area, or even start your own program. Student has 12 months to complete the program, though it can be completed in as little as 3.
COST: $2000
(The 3 Day Basic Certification Course covers credit for the weekend skills course, and wilderness first aid, as it is a combination of the two.)
1 Day Critical Skills Course: Attend 3
Weekend Critical Skills Course: Attend 3
Weekend Field Course: Attend 1
Map & Compass Course: Attend 1
7 Day Cross Climate Course: Attend 1
Wilderness First Aid Course: Attend 2
Primitive Skills Weekend: Attend 1
Map & Compass Instructor Development Course: Attend 1
Wilderness First Aid Instructor Development Course: Attend 1
Private Skills Instructor Development Course: Attend 1
Successfully lead or assist (teach):
1 Day Critical Skills Course(1), Weekend Skills Course(2), Wilderness First Aid Course(1), Map & Compass Course(1)