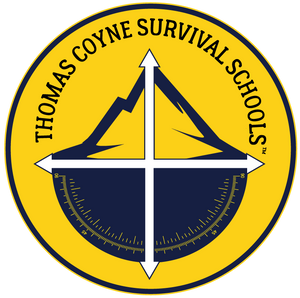 3 Day Survival Skills Certification Gift Card
Regular price $375.00 Sale
Shopping for someone else but not sure what to give them? Give them the gift of choice with a Coyne Survival Schools gift card.
This gift card can be applied toward any Survival Skills Certification 3 day Weekend Course. They also never expire! These are non-refundable. Thank you for choosing T.C.S.S! Feel free to contact us with any questions at all. 805.441.7750
Gift cards are delivered by email and contain instructions to redeem them at checkout. Our gift cards have no additional processing fees.
FORMING A LIFE SAVING STANDARD:COURSE OVERVIEW
This course is designed to train the student to be their own first responder in the event of an emergency in remote settings. It provides the most essential wilderness survival and medical skills for operating alone in the outdoors, where help may be anywhere from hours to days away.
This is a combination of our weekend critical skills intensive and our wilderness first aid certification course. It is a true training intensive covering a wide range of material. This course includes our wilderness survival skills certification, and a nationally recognized wilderness first aid certification.
Days 1-2:
*Learn to recognize and treat exposure (hypo/hyperthermia)         *Form a bow and drill friction fire kit (fire with sticks), and other   emergency fire making techniques
*Construct a weatherproof survival shelter
*Learn to make an effective small game trap
*Learn to locate and purify water in the field
*Construct a weatherproof survival shelter
*Learn emergency signaling techniques (air & ground) for rescue
*Understand common wilderness emergencies & their causes
*Produce cordage (string/rope) from wild plants                   *Learn to cook a meal without pots, pans, or utensils           *Learn how to react to dangerous snakes & animals
Days 2-3
Wilderness First Aid Certification Course
Wilderness first aid is different from standard first aid in that; it can require extended care (24hrs+), it can require you to improvise and form gear from your camping equipment and.or surroundings, and you must take exposure measures (care for the patient's needs in terms of warmth and cooling), training is hands on, and students learn to improvise their own medical gear from their surroundings, and students perform a much higher level of medical intervention- (i.e. students will learn to set certain dislocated joints, close wounds, and more)
Our two day/16+ hour course is a nationally accepted certification course fro the American Safety & Health Institute- the world's largest private EMS training provider. 
Learn techniques such as;
*Closing and packing wounds
*Splinting injured limbs
*Checking for spinal injuries
*Identifying and treating environmental exposure
*Medical Emergencies
*Insect bites
*Treating burns
*Much More!