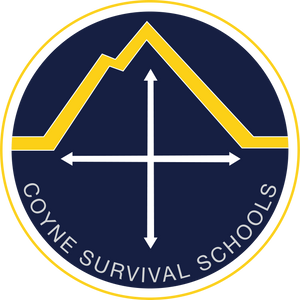 SHT Private Survival Skills Course
Regular price $400.00 Sale
SHT presents, Survival & Urban Disaster!

This event is being hosted by the amazing team from Coyne Survival Schools out of California https://www.californiasurvivaltraining.com/

Feel free to message Info@casurvivaltraining.com, (805) 441-7750 or myself @ t@paulctijerina.com, (702) 677-6098 with any questions!


Join us for this 2 day event!
The first day,
Saturday April 24th,
we'll be meeting
a campsite in Lovell Canyon, NV, to get an introduction to survival skills! 
We will be meeting at my office @ 2402 N. Tenaya Way, Las Vegas, NV 89128. We will be leaving my office at 8am to head to the campsite.
The 2nd day, Sunday
 April 25th, 
we will change locations and meet at SHT HQ and The CrossFit Combine gym space 
@ 9am 
@ 2402 N. Tenaya Way, 89128, to host an Urban Disaster day course! Details are below! Feel free to email or message 

DAY 1: ESTABLISHING SURVIVAL FUNDAMENTALS

We'll be meeting on Saturday, April 24 @ 9am at Mount Charleston at a place to be determined soon. We can also leave my office @ 8am and carpool together.

From Coyne Survival:

Get hands on and test yourself during this single day training intensive. We developed this course to; introduce the public (persons of all ages and physical abilities) to critical survival skills, and give students to their first taste of field training. If you are looking to become more independent, competent, and safe in the outdoors, then we want to give you a good start and get you on track. On this course you get hands on training with:
Fire making: Learn to make a fire in ANY weather- wet or dry.
Water purification: Learn "gearless" water purification as well as common purification and treatment measures.
Shelter: Construct an all weather survival shelter.
Emergency signals: Learn improvised as well as emergency signaling methods for getting rescue fast.
Exposure: Learn to identify and treat hypo/hyperthermia in the field. Exposure is the #1 killer in an outdoor survival situation.
Review the most common outdoor emergencies and learn how to avoid them. Learn to not make the "easy" mistakes.
Readiness: Learn how to prepare an emergency kit for the most common emergencies encountered in the field.
AND MORE!
Please bring your favorite pocket knife and a minimum of food for a day (snacks if applicable and a "lunch" meal). A camera and notebook are highly recommended. 
We will have the option to stay overnight so if you'd like to camp, you can bring camping equipment and food OR you can use the emergency shelter we'll be preparing together. OR you can go home! But we'd recommend staying! 
DAY 2: URBAN DISASTER READINESS

We'll be meeting at The CrossFit Combine, 2402 N. Tenaya Way, 89128, on Sunday, March 14th @ 9am.

From Coyne Survival...
You do not have to be a conspiracy theorist to want to prepare for a "grid down" scenario. In California we have experienced massive fires, floods, earthquakes, land slides, riots and large scale protest, just to name a few disruptions.

Don't be scared be prepared. We have a real world approach to disaster prep that sets us apart. We use clear historical examples as our guide. There is a lot of information presented on this course, this is why students receive a handout to go with the course, and practice these skills hands on. This is not simply a lecture, there will be extensive student participation.


LEARN THE FOLLOWING TOPICS

Medical considerations in disasters zones; packing a medical kit, how to stop bleeding, long term wound care considerations, and more. We will have full trauma kits for display, and training aids for participation.
Improvised power generation; we will assemble a working solar powered generator
Evacuation considerations for urban environments and emergency route planning.
When to evacuate vs "shelter in place".
Water procurement and treatment; includes a desalinization exercise and hands on use of portable filtration technology.
Food storage and preparation considerations
Considerations for chemical, nuclear/radiological, and biological incidents. We will have respirators with CBRN filters for the students to manipulate.
Hygiene considerations when the "grid" is down
Understanding civil disturbances
Urban self defense considerations
Packing a "go bag"
Introduction to the unorthodox procurement of supplies
AND MORE!
This event will probably last until 4pm, so bring snacks (if desired) and a lunch.

Your receipt for this purchase will include a link to download all course materials, including your waiver and handouts. Please feel free to contact us with any further questions or concerns at all.
Purchases cannot be refunded within 30 days of the event.