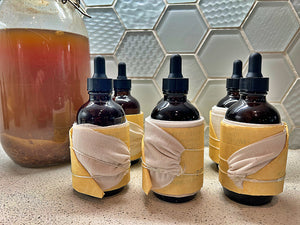 Hit Wine Liniment
Regular price $30.00 Sale
Price includes shipping. This is a 4oz. bottle of our "hit wine" liniment. Liniments like these have been used for over 1000 years by martial arts communities across Asia, such as practitioners of Muay Thai and Kung Fu. 12 carefully selected ingredients are cured in a glass container for a minimum of three weeks (up to three months) in neutral grain alcohol to extract their potent compounds. The alcohol is then applied to the injured/painful area. 
Ingredients; Grain alcohol and water based extracts of; frankincense resin, myrrh resin, red sage root, dragon's blood resin, cinnamon, hops, comfrey root, yarrow, ginger root, mint leaves, a pinch of cayenne pepper, a dash of camphor oil. FOR EXTERNAL USE ONLY. NOT FOR USE ON BROKEN SKIN/OPEN WOUNDS.
Thank you, all sales are final. Due to the nature of this product, it is non refundable.