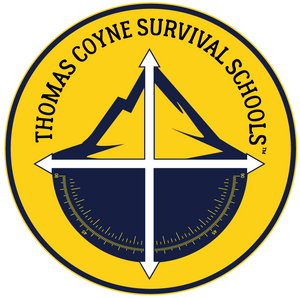 2 Day Critical Survival Skills Course Gift Card
Regular price $300.00 Sale
Shopping for someone else but not sure what to give them? Give them the gift of choice with a Coyne Survival Schools gift card.
This gift card can be applied toward any 7 Day Cross Climate Course. They also never expire! These are non-refundable. Thank you for choosing T.C.S.S! Feel free to contact us with any questions at all. 805.441.7750
Gift cards are delivered by email and contain instructions to redeem them at checkout. Our gift cards have no additional processing fees.
MASTERING THE FUNDAMENTALS: COURSE OVERVIEW
This is the outdoor survival course everybody should take once, no matter what your skill level. In an emergency, it's knowing the fundamentals that will save you, and here at TCSS we've taken them to a whole new level. This scenario based training course covers the most essential skills to survival in the outdoors, while challenging you to problem solve and perform. Yes you may bring food and a sleeping bag, but we will take you out of your comfort zone on this course and push you to succeed. In survival, success is your only option.
Go beyond the YouTube videos and reality shows with our expert instructors and learn what it truly takes to survive an outdoor emergency. Our curriculum is based on life saving techniques to be employed in real life wilderness survival scenarios and has set a new standard in the field. This course will be fully outdoors no matter what the weather, and is 100% hands on. 
Tents are allowed though students have the option to sleep in actual survival shelters they make themselves from the environment. We provide all survival gear to train with, just bring a pocket knife.
*Train in emergency scenarios and learn to respond-and not panic- when things wrong.
*Learn to recognize and treat exposure (hypo/hyperthermia), the   #1 killer in outdoor survival situations
*Learn how to pack for the outdoors and form real world survival and medical kits
*Form a bow and drill friction fire kit (make a fire with sticks)
*Learn emergency all-weather fire making techniques
*Construct a weatherproof survival shelter
*Learn essential first aid skills like how to stop bleeding
*Learn to locate and purify water in the field
*Learn emergency signaling techniques (air & ground) for rescue
*Understand common wilderness emergencies & their causes
*Produce cordage (string/rope) from wild plants                      
*Learn how to react to dangerous snakes & animals
...and much more!